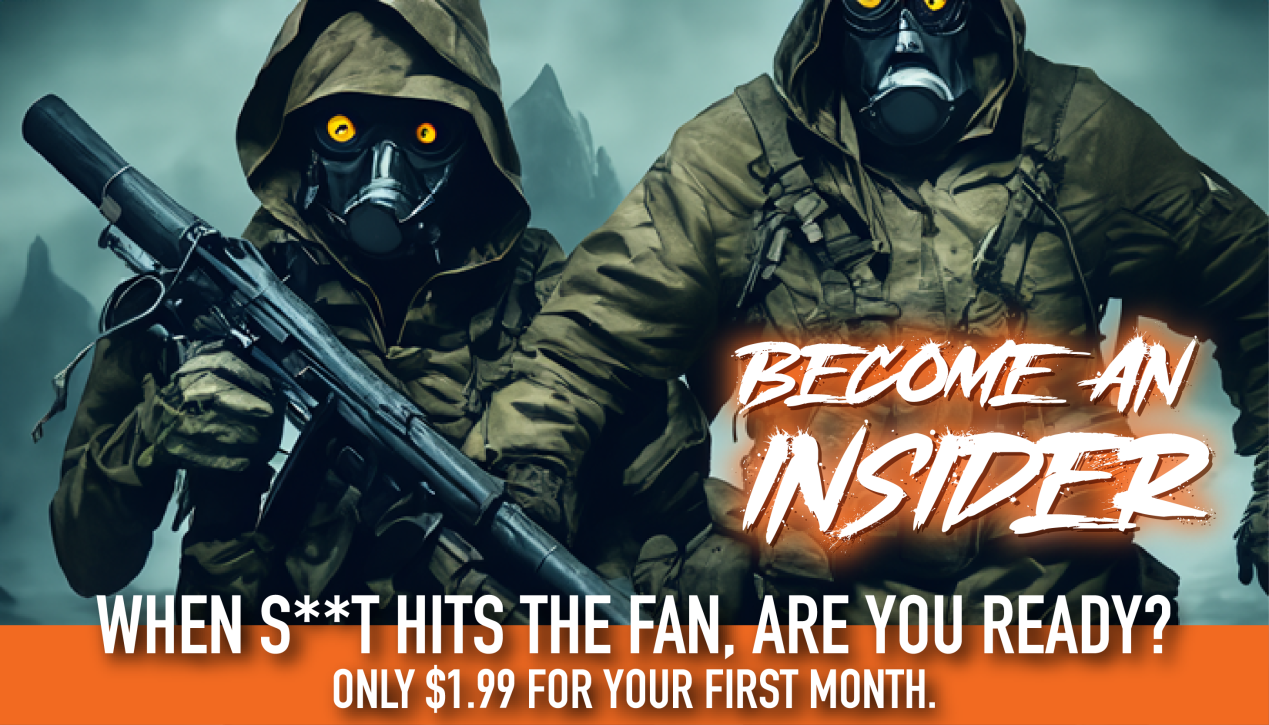 Russia, Ukraine, and How US Civilians Should Prepare
The situation in Ukraine has seemed to be more smoke than fire as the US media and Biden Administration attempt to fan it into a legitimate distraction from his disastrous handling of domestic issues. Over the past few weeks the messaging from Ukrainian officials, and most European news sources, was much more balanced. President Volodymyr Zelenskyy even called Joe Biden and others out for attempting to make too much out of the Russian movements along their border. According to the Daily Mail, Zelenskyy even said that people would be safer in Kiev than Los Angeles because of how disastrous Democrat-run cities have performed.
All of this comes as Biden's approval ratings, even in friendly polls, dips below 40%. Making it essential for his team to find some way to either 1) rehabilitate his image or 2) direct the attention away from his incompetence. Because of just how incompetent not only Joe, but his entire support staff is, number 1 is not a realistic option. Enter Ukraine.
If you look at the situation on the ground, everything up to this point has indicated empty posturing for optics purposes with little to no threat of the conflict turning hot. As ABC News reported on Friday February 11th,
The Pentagon has ordered 3,000 more soldiers from the 82nd Airborne Division to Poland as tensions continued to mount about a possible Russian invasion of Ukraine, a senior defense official said Friday.

"At the direction of the President, Secretary Austin today ordered to Poland the remaining 3,000 soldiers of the 82nd Airborne Infantry Brigade Combat Team based at Fort Bragg, N.C.," said a senior U.S. defense official. "These troops will depart Fort Bragg over the next couple of days. They are expected to be in place by early next week."
Moving Airborne Infantry in to face Russian tank divisions is hardly a tactically sound decision, however it does allow the Biden Administration to drum up more anticipation because they are easy to mobilize in large numbers.
Also Thursday of last week, at least two nuclear bomb capable B-52 Stratofortress were relocated into the Royal Air Force (RAF) Fairford Airbase. Pictures released from some of the planes accompanying the bombers were posted by Mikey Kay.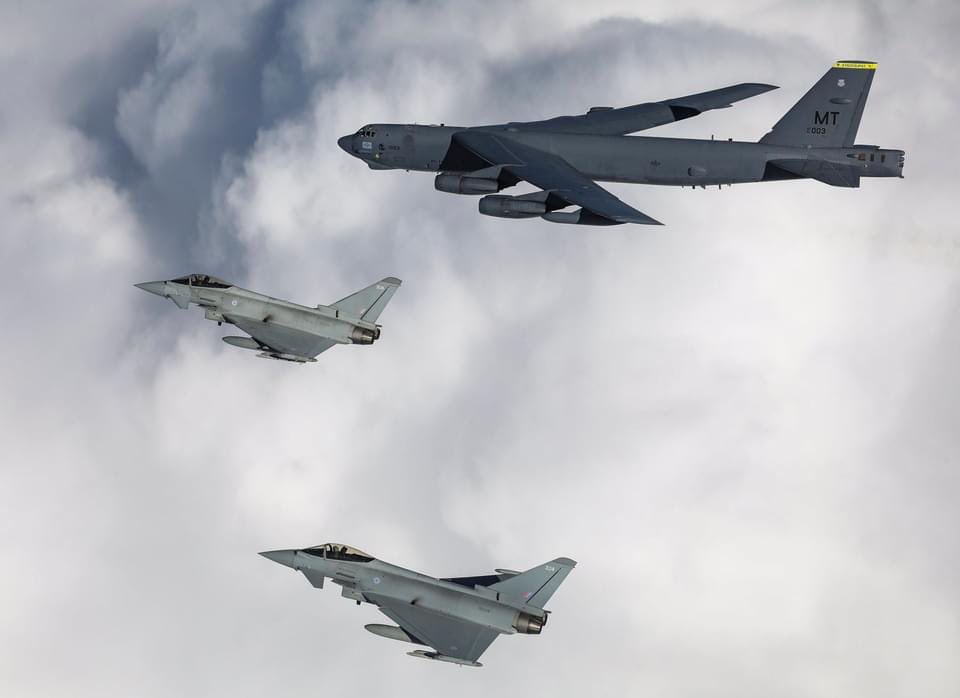 As Gloucestershire Live reported,
This particular flight, however comes shortly after four B-52s arrived at RAF Fairford from their home in Minot, North Dakota last week for a "long-planned" training mission.

Coincidentally, it's also at a time when the US Army and Air Force have been increasing tensions against the Russian military over a feared invasion of Ukraine.

The four bombers have noticeably been very active in recent days, with the planes increasing active on Flight Radar's for all to see.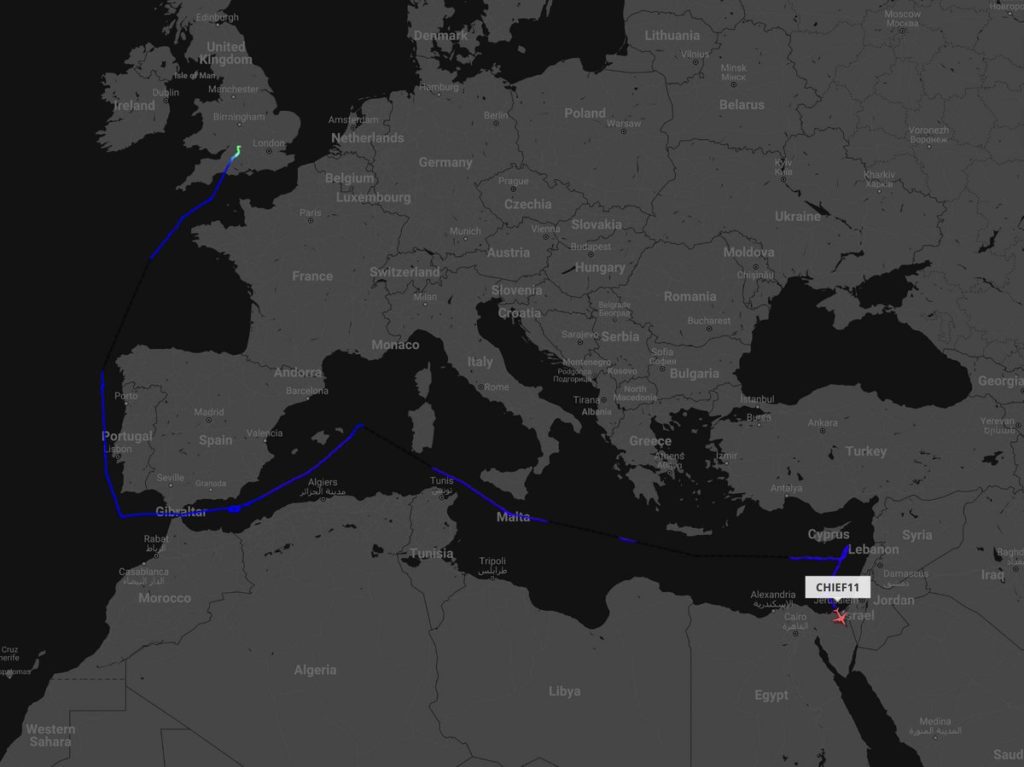 Two of these B-52s departed RAF Fairford last night and proceeded to fly down the west coast of Portugal before turning east into the Mediterranean passing over Gibraltar. They appeared on radar under the call sign Chief 11 & 12. Following rendezvousing with refueling planes, Chief 12 turned off their transponder around midnight of last night. Chief 11 continued along the coast of Syria before turning south towards the Red Sea.
Things took a turn today whenever Zelenskyy made a statement promising a "Russian invasion" on Wednesday of this week. The statement was a confusing mess somehow linking Valentines Day and Love to the impending Russian invasion. He said,
We are told that February 16 will be the day of the attack. We will make it the Day of Unity. The relevant decree has already been signed. On this day, we will hoist national flags, put on blue and yellow ribbons and show the world our unity.

We have one great European aspiration. We want freedom and are ready to fight for it. 14,000 defenders and civilians killed in this war are watching us from the sky. And we will not betray their memory.

We all want to live happily, and happiness loves the strong ones. We have never known what it is to give up and we are not going to learn that.

Today is not just Valentine's Day. It is the day of those in love with Ukraine. We believe in our own strength and continue to build our future together. Because we are united by love for Ukraine, united and unique. And love will win. Yes, now you may think it's darkness all around. But tomorrow the sun will rise again over our peaceful sky.
While there is nothing one can be certain of moving forward, given the issues at hand it is fairly reasonable to assume that the conflict will continue to be fought with rhetoric rather than weapons. At the root of the issue is that Russia does not want NATO's authority to extend all the way up to its border, which is understandable given that NATO's sole reason for existence is to fight back against Russia. It would be similar to how the United States would react if Mexico was attempting to ally with Russia, thereby granting Russia the ability to put warheads on our southern border.
The Ukrainian Ambassador to the United Kingdom, Vadym Prystaiko, issued a statement today that Ukraine not joining NATO was on the table. As Bradley Delvin for The American Conservative wrote,
While Ukraine may see joining NATO advantageous in the long run because doing so would essentially guarantee Ukraine would no longer have to substantially provide for its own self defense via the alliance's Article 5 provisions. However, the prospect of Ukraine joining NATO after NATO has expanded closer and closer to Russia's border since the dissolution of the Soviet Union is partially why there seems to be an air of urgency regarding Russia's hopes of possibly recapturing areas of Ukraine that have substantial Russian populations. Putting NATO membership on hold for the next decade or two (or, if I had it my way, drop the prospect altogether) is the prudent thing to do in the short term to avoid a Russian incursion.