The World "Un-Health" Organization 
Explosion of ADRs 
As the Daily Mail and others reported, according to data gathered by the international non-profit organization The Peoples Vaccine Alliance, Pfizer, BioNTech, and Moderna will have generated $34 billion in profit in 2021 collectively. That is over $93 million per day, $65,000 a month, or $1000 every second.
Money of this magnitude obviously creates an incentive for pharmaceutical companies to get their product to market as fast as possible. Under the Emergency Use Authorization (EUA), companies like these are exempt from being held responsible for injuries incurred as a result of receiving the vaccine. With the long-term studies still not in, corrupt control groups, and the minimal results we do have being faked by the companies, many have been extremely concerned about the long-term effects of receiving any of the Covid-19 vaccines.
The skeptic's worst fears seem to be in the process of being proven right. While the mainstream media has not covered the numbers you are about to see, for reasons we will address at another time, they come from what has been described as, authoritative sources.
The World Health Organization (WHO), which has been widely regarded by politicians, social media companies, and other medical personnel, as the premier source of information on Covid-19 despite their clear conflicts with China and the CCP. The WHO maintains a database of Adverse Drug Reactions (ADRs) and Adverse Events Following Immunization (AEFIs) called VigiAccess. It is managed in conjunction with Upsala Monitoring Centre out of Sweden, which coincidently, is the only country to not lockdown at all during the entire pandemic.
The website describes it as such,
VigiAccess was launched by the World Health Organization (WHO) in 2015 to provide public access to information in VigiBase, the WHO global database of reported potential side effects of medicinal products. Side effects – known technically as adverse drug reactions (ADRs) and adverse events following immunization (AEFIs) – are reported by national pharmacovigilance centres or national drug regulatory authorities that are members of the WHO Programme for International Drug Monitoring (PIDM). WHO PIDM was created in 1968 to ensure the safer and more effective use of medicinal products.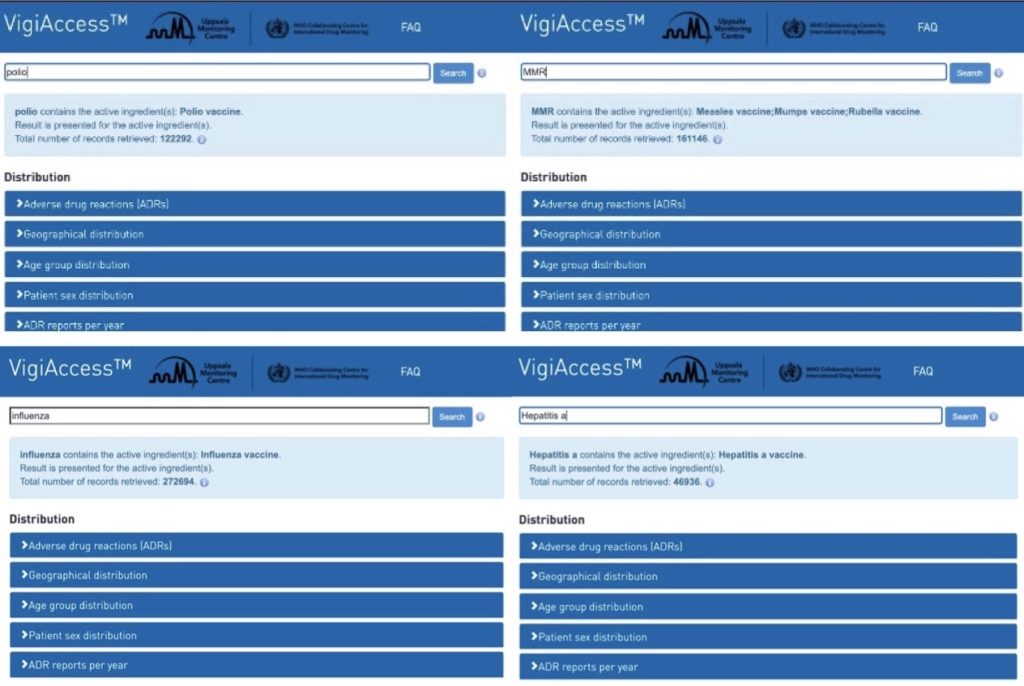 This program has been around for more than half a century, and the data collected reflects both the width and breadth of their monitoring. If you search "Influenza" you receive the data all the way back to the year of inception in 1968, as of the writing of this article 272,694 events. While the data collection was likely lack luster at the beginning of the programme it has become more robust and reliable.
You can find the total number of adverse events for Mumps, Measles, & Rubella, Influenza, Polio, and dozens of other vaccines and pharmaceutical products. 
There are more than twice as many adverse events for the Covid-19 vaccine in 2021 than there are for the combined lifetime of the MMR, Influenza, Polio, and Hepatitis A vaccines. This is an astronomical number of negative reactions, which should have at least paused the trials or rollout of this vaccine. Yet, neither happened. The problem with the current climate surrounding dissenting voices, questioning authorities, and censorship on the internet is that by presenting this information you open yourself to be banned for life and ridiculed.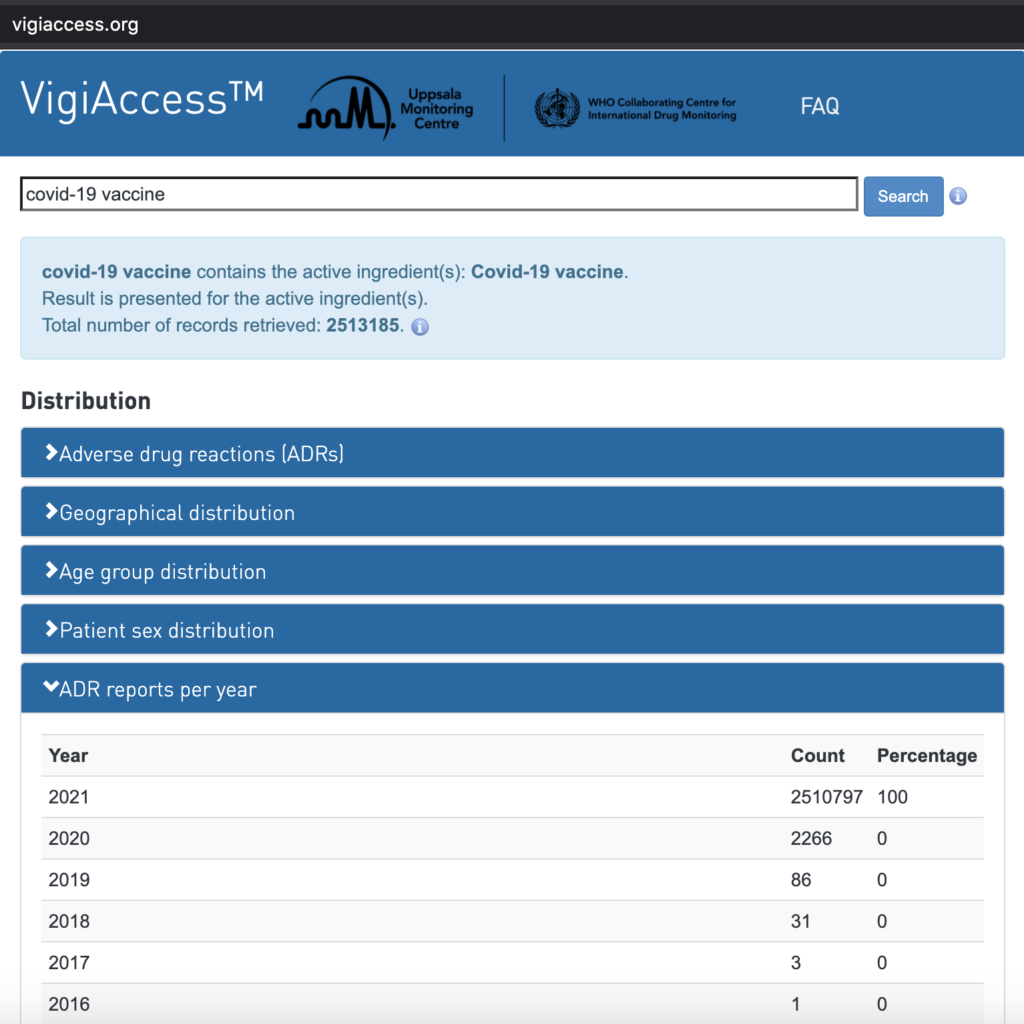 The CEO of Pfizer called for those who spread "misinformation" on the Covid-19 vaccines to be treated as criminals.
In a Tuesday conversation with Frederick Kempe, CEO of Atlantic Council, a think tank based in Washington, DC, Pfizer CEO Albert Bourla said there is a small group of people who "circulate, on purpose, misinformation so that they will mislead those that they have concerns" with the vaccine.

"Those people are criminals," Bourla said. "They're not bad people. They're criminals because they have literally cost millions of lives."
The problem is, anything that questions the need, efficacy, or safety of the Covid-19 vaccine is considered "misinformation." It has become so extreme that posting information from Open VAERS database, the CDC VAERS system, or the WHO VigiAccess index. Memes, opinions, and now even hard data from authoritative sources are unauthorized truths which can result in you being suspended, targeted by the twitter mob, and potentially banned from the public square.

All while these companies make tens of billions of dollars in a calendar year, they have the time and energy to encourage the media, big tech companies, and law enforcement agencies to target you for expressing your opinion as is your right as an American citizen. This is a concerning and unwholly alliance which threatens the medical freedom, bodily autonomy, and integrity of constitutional law in the United States.