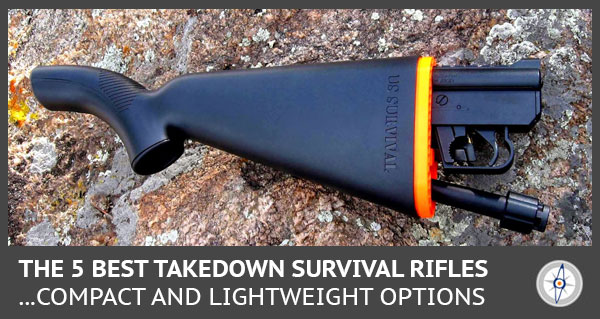 Many people who venture into the wilderness have at least a basic understanding of primitive traps and snares that can be used to procure a meal in a survival situation.
However, the vast majority of people have neither the skills necessary to construct them, nor the knowledge necessary to know where to set them.
Therefore, a much better solution for most people is to carry a rifle chambered for the venerable .22 Long Rifle cartridge. This type of ammo is both relatively inexpensive and readily available.
And more importantly, it enough kinetic energy to humanely dispatch most small game species.
Carrying a full sized .22 caliber rifle can be somewhat cumbersome, but fortunately for those who enjoy venturing into the wilderness, there are numerous different takedown models available.
These options make carrying a small bore survival rifle far more practical. They run the full range from high quality sporting rifles to no frills dedicated survival rifles.
Below you will find a list of the top five takedown .22 caliber survival rifles that you should consider when taking a trip into the wilds.
Browning Model SA-22 Grade 1 Semi-Automatic .22 Rifle
Without a doubt, the Browning Semi-Auto .22 rifle stands at the top of the pyramid as the highest quality, and most expensive, of the five 22. caliber takedown rifles featured in this post.
But, for those who appreciate fine firearms, it is not only a high quality hunting rifle, it is also very aesthetically pleasing with its high grade walnut stocks.

It is very easy to assemble and disassemble since both the fore stock and barrel are detachable by simply unlocking the barrel and then twisting the two halves.
In addition, unlike most such rifles, it is designed to hold 11 rounds contained in a tubular magazine that is loaded through a port in the side of the butt stock.
The Grade 1 rifle measures 19.25 inches when disassembled. It's a bit on the heavy side at 5 lbs. 3 oz.
Ruger 10/22 Model 11100 Takedown Rifle
The take-down version of the Ruger 10/22 is an in expensive alternative to the Browning SA-22 Semi-Auto .22 rifle but, it rivals the Browning rifle in both quality and accuracy.
However, unlike the Browning rifle, the Ruger 10/22 model 11100 rifle features a lightweight, glass filled, polymer stock and a stainless steel receiver with a cold hammer forged, precision rifled, stainless steel barrel.

Also, it includes a combination scope base adapter for both Weaver-style, and .22 tip-off, scope mounts and, the chamber is fed from a detachable, 10 round, rotary magazine.
It is very easy to disassemble and reassemble by simply pushing a recessed lever to unlock the two halves and then twisting them. The Ruger 10/22 measures approximately 19 inches when disassembled, and weighs 4.6 pounds.
Marlin "Papoose" Model 70PSS Rifle
Although the Marlin Model 70PSS "Papoose" takedown .22 rifle has long been a mainstay for the wilderness survival community, Marlin has sadly chosen to discontinue production of this fine little rifle.
You can still find them on such web sites as Gunbroker, Auctionarms, and Armslist as well as at local gun shows and pawn shops.
Unlike the two rifles listed above, the Marlin Papoose was specifically designed to be a compact, ultra lightweight, survival
It features a stainless steel receiver and barrel with integral Weaver style scope mounts and a hollow, polymer butt stock. In addition, because it lacks a forestock, the barrel can be easily detached from the receiver and stored in the hollow cavity in the buttstock.
The buttstock can then be sealed by reattaching the butt plate to form a watertight package that will actually float!
When assembled, the chamber is fed from a detachable, 7 or 10 round, in-line magazine which also fits in the buttstock beside the barrel. It measures approximately 18 inches when disassembled, and weighs a mere 3.25 pounds.
Henry Repeating Arms AR-7 Rifle
Very similar in design and appearance o the Marlin Papoose listed above, the Henry Repeating Arms AR-7 is still in production and is also specifically designed to be a compact, ultra light, survival rifle.
Although not quite as well known as the Marlin Papoose, it has been the exclusive choice of the U.S. Air Force for a small bore survival rifle since its introduction in 1959.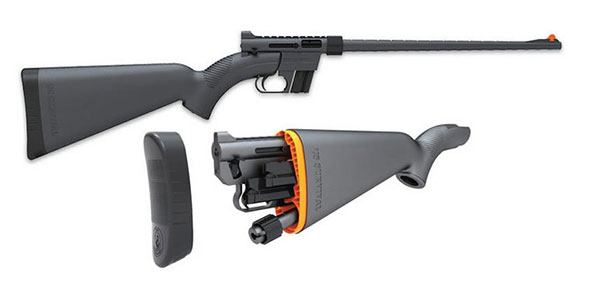 It is a no frills survival rifle that features a steel semiautomatic receiver with a steel barrel that is easily removed by simply loosening the large barrel nut that mates the barrel to the receiver.
Like the Marlin Papoose, the Henry AR-7 also features a hollow ABS plastic buttstock and no forestock. The barrel also fits within the hollow cavity in the buttstock which is then sealed by the butt plate to create a watertight package that will float if accidently dropped in a stream, pond, or lake.
In addition, it includes two 8-round magazines which are designed to fit within the hollow buttstock with the barrel to create a very compact package.
Lastly, it is available with your choice of a matte black or camouflage finish. The rifle measures 16.5 inches when disassembled, and weighs just 3.5 pounds.
Mountain View Arms Pack-Rifle
Without a doubt, the Mountain View Arms Pack-Rifle is the lightest single-shot takedown .22 caliber rifle on the market today!
Weighing a mere 15.5 ounces, the pistol grip and receiver of the Pack-Rifle are machined from high strength aluminum while the barrel features a carbon fiber tube with a button rifled Cro-Moly steel insert.

In addition, the buttstock tube is also made from carbon fiber while the butt plate is made from the same machined aluminum as the receiver. The same mechanism that enables a shooter to load the rifle and extract the spent shell also enables the rifle to be disassembled into two pieces in less than 2 second without the need for tools of any sort!
Furthermore, it measures just 17 inches when disassembled and is available in your choice of a silver, earth brown, or black anodized finish along with several accessories such as a trigger guard and adjustable sights.
Final Thoughts
Regardless of whether your preference is for a high quality sporting rifle like the Browning SA-22 semiautomatic rifle, an ultra-light no frills single shot rifle like the Mountain View Arms Pack-Rifle, or something in between. Any of the five rifles listed above will meet your needs.
Each one is a fine example of a compact and lightweight hunting rifle for survival situations.