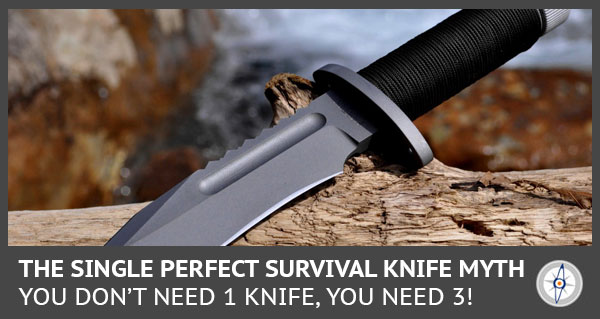 Ask most any experienced outdoor survivalist and they will all likely agree that a well designed and properly constructed knife is Man's best friend when it comes to wrestling subsistence from the wilderness.
However, in so many of the articles published on the topic of how to choose a survival knife, the authors would have you believe that there is such a thing as a single, all-purpose, survival knife that is capable of performing every task that a person needs when attempting to survive in the wilderness.
This is simply not true!
When surviving in the wilderness, a person needs to perform many different tasks such as cutting saplings, splitting logs, constructing traps and snares, and removing the hide from harvested game animals.
Therefore, if a person chooses a large knife optimized for large tasks, then it is ill suited for performing small tasks. The same is true if a person chooses a small knife.
Consequently, rather than carrying a single survival knife and expecting it to do everything you need in a survival situation, a far better solution is to carry more than one.
Instead of thinking of survival knives as single, all-purpose tools, they should instead be thought of as part of a three-part system:
a heavy-duty chopping tool
a much smaller, fixed-blade, bushcraft knife
a folding hunting knife
Chopping Knives
Although they are often overlooked by inexperienced woodsmen, a heavy-duty chopping tool is one of the most user-friendly wilderness survival tools you will ever meet! However, early American bladesmiths were sorely lacking in innovation when it came to heavy-duty chopping tools since Americans imported the hatchet from Europe. The only tool suitable for this purpose that American bladesmiths had developed at the time was the Bowie Knife and, while they are adequate for the job, neither is optimum for the purpose.
Fortunately, because the peoples of Thailand, Malaysia, and the Philippines live in a woody jungle, they have long recognized the need for a large knife designed specifically for chopping wood. They developed such designs as the Parang, the Enep, the Bolo, and the Barong to fill this niche. Also, although the exact shape and length of these knives varies from village to village, each of these designs was specifically developed for cutting hard, woody, vegetation and they all have a characteristic overall shape which makes them easily recognizable to the experienced eye.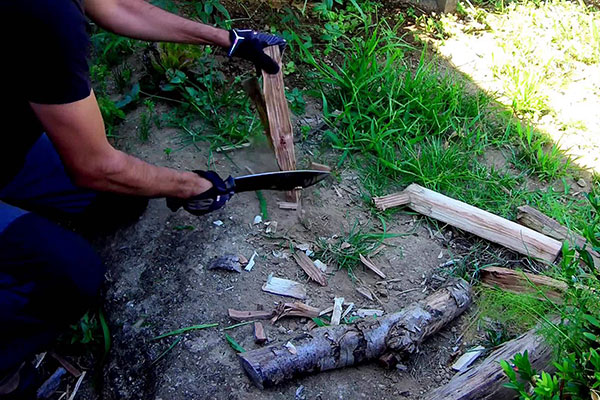 While some of these knives are more akin to the South American Machete (which was designed for cutting relatively soft vegetation), in their shorter and heavier versions, they are like a hybrid version of a machete and hatchet. They feature extra-thick spines and extreme weight-forward designs that cut deeply like a hatchet. You get the benefits of a machete while retaining the versatility of a knife.
Tools like the Kershaw Camp 10 (a modern version of the Thai Enep), the Fox Knives Parang XL, or the Bark River Knives Grasso Bolo are all excellent choices for a modern, heavy-duty, chopping tool for wilderness survival.
Kershaw Camp 10
Bushcraft Knives
As a compliment to your heavy-duty chopping tool, you should also add a highly versatile bushcraft knife such as the Randall's Adventure Training ESSE-5, the KA-BAR Mark 1 or, the Cold Steel Master Hunter to serve as a general purpose tool when the heavy chopping tool is either too big, too heavy or both. Such a knife should have either a Clip Point or a Drop Point blade design, and the blade should measure somewhere between 4 and 5 inches.
Cold Steel Master Hunter
Folding Knives
Because you will find that you have frequent need for your bushcraft knife, you will also find that you need to sharpen it frequently. Thus, it is also helpful to carry a large folding knife such as the Buck model 110 Folding Hunter, the Benchmade Crooked River or, the Ontario Knife Company RAT Model 1. That way, by reserving your folding knife strictly for skinning game animals, you will always have a knife with a razor sharp edge at hand, and you will not have to stop to sharpen your knife prior to processing game.
Buck 110b Folding Hunter – available at BigDaddySurvival.com
Blade Steel
Because you will need to perform many different tasks with your survival knives ranging from chopping, splitting, cutting, and carving to digging in the ground for edible roots and tubers (all of which can be very hard on a knife), you should pay special attention to the steel that the blade is made from.
For instance, blade steels are commonly divided into two categories consisting of high carbon tool steels and stainless steels. As a general rule, high carbon tool steels are significantly tougher than stainless steels although, they do require more care to keep them corrosion free. In addition, due to their composition, high carbon tool steels commonly have a finer grain structure than stainless steels making them more resistant to breaking, and enables them to hold a finer edge.
But, due to their lack of Chromium and/or Vanadium, high carbon tool steels also lack the carbides that make stainless steels hard. Thus high carbon tool steels need to be sharpened more frequently than stainless steels. You should look for knives with blades made from such steels as 1095, 5160, 65Mn, or A2 but, if you happen to have a distinct preference for stainless steels, it is very difficult to choose a better steel than 440C or AUS-8 for your survival knives.
Final Thoughts
While having any knife at all in a survival situation is far better than having no knife whatsoever, it's not only unwise but also unnecessary to carry only a single knife and expect it to be able to perform all of the tasks that you will need it to in a survival situation.
Rather than falling victim to the single survival knife myth, a far better option is to think of your survival knives the same way a golfer views his golf clubs. After all, while a person could play eighteen holes of golf with nothing more than a putter or a driver, each golf club is specifically designed to perform a particular task and the same is true of survival knives!