Switzerland's Shelters
Switzerland can rely on an extensive network of fallout shelters. They are located inside government buildings such as hospitals, convention centers, and schools.
Since October 4th, 1963, through a building regulation, the Helvetic Confederation started to require the construction and maintenance of nuclear shelters in residential buildings as well.
Besides the impressively large "communal shelters" like Sonneberg Tunnel (which is maintained on a regular basis and stocked with food and fuel), there are 300,000 private house shelters.
The outstanding total number of 8.6 million shelters makes the Swiss example "the best civil defense system, one that already includes blast shelters for over 85% of all its citizens."1
Swiss Shelters Today
"Ask a Swiss if he has a shelter – he will look at you as if you asked him if you breathe air"
Nowadays, most private house and residential shelters are no longer used for their original purpose. Despite the fact that Swiss mentality is intrinsically related to owing a bunker, currently these places aren't stocked with food, water, and medications gathered and designed for a specific long habitation. Or not all of them.
In fact, a large number have been converted to other uses like gyms, game rooms, wine cellars and so on. Basically, during peacetime, you can turn your bunker into whatever you want, but, by law, it must be able to be returned to its original purpose within a week.
A couple of weeks ago I had the chance to pay a visit to architect Karim Notari, who, along with his wife Laura Gianellini, became the first insects breeders (and sellers) in the Helvetic Confederation.
And guess where they started this business? Yes, inside their bunker. Karim and Laura just had to set up the two camp beds to make it 100% effective by Helvetic laws.
In the next paragraphs we will understand how they did it. And how you can do it too!
About Entofarm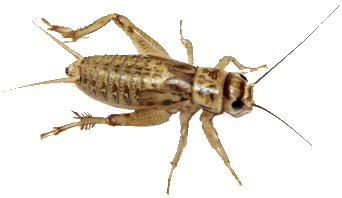 Insects are the food of the future.
While in other latitudes insects have been considered for many centuries a staple food—even a delicious one—they only took off in Switzerland in 2017.
Since then, for the first time, three insect species have been marketed for food purposes. These are mealworms, the domestic cricket, and the migratory locust.
Nowadays you can actually find insect-based foods in supermarkets, even if the market is still considered pretty virgin.
The non-local production is the main source of concern. However, within the city of Lugano, is Karim and Laura's company Entofarm.
Karim told me that he actually had the idea of breeding crickets when he was a child. Back in the day, he watched a documentary on development aid in Africa. He learned how local communities sowed corn which was then readily eaten by large caterpillars. People started to sow corn in order to feed the caterpillars and eat them, considering they contain a high source of protein that corn does not have.
Many years later, Karim went back to that documentary and along with his wife nurtured the idea of an edible insect farm. They were concerned about what was happening worldwide, the problems related to meat consumption and overeating becoming overwhelming. The situation was getting tremendously serious.
Today, Karim and Laura know that insects are a very healthy food. They are not only nutritional in terms of protein, but they are tasty too.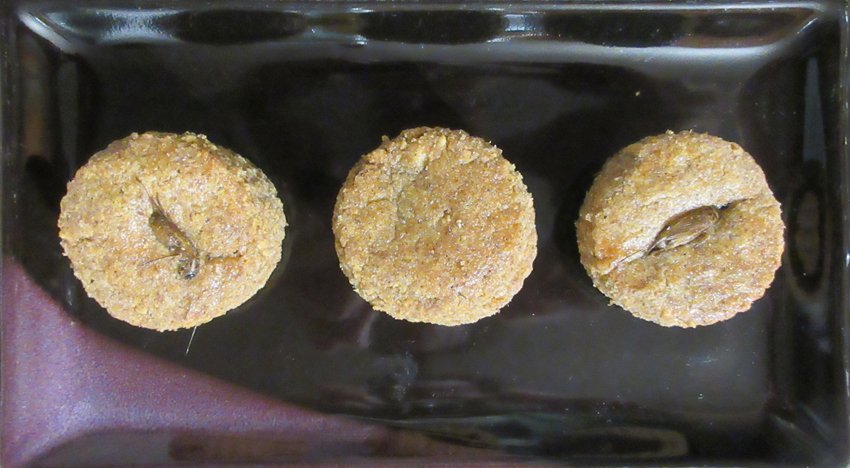 The Swiss law has only allowed the breeding of insects for a couple of years. Without any external help, the couple took just over a year to obtain all the necessary permits. And they learned by themselves that how one breeds insects is by no means obvious. They moved on step by step, learning from their mistakes before finding the right path.
Karim and Laura coined their slogan: "Don't look for us on Facebook, we're not there. Come and visit us!" It is quite significant to their current range of customers, as they do not have a great amount of product to sell.
In fact, they only have a small amount of product available:
"We can't supply a supermarket with 5 million insects a year. We prefer to focus on small batches: we can make flour, combined with wheat, into products with a content of 6-10% of insects. This allows us every two months to obtain a production of 200 grams [around two cups] of crickets. It seems very little, but 200 grams of crickets correspond to dozens of steaks at the protein level," Karim said.
Nonetheless, the advantage of crickets over meat-derived proteins is enormous. First, crickets provide protein, but they also provide carbohydrates. A steak doesn't.
Second, by eating crickets you get the same amount of protein while taking up a very small space, with very little feed, very little water, and very little waste.
It's definitely a win-win, from a prepping perspective!
Getting Started
As we saw in the previous paragraph, and contrary to popular belief, insects are tasty and highly nutritional.
Considering the fact that cricket flour is incredibly protein-rich (66%), it can be considered an ideal food for preppers, but it doesn't have to be just for this. In fact, it can be included in your diet as a precious supplement.
Karim kindly provided me with some valuable information to get started with breeding crickets at home, sweeping away any doubt on the effectiveness of starting such a business.
(Be sure to check your government's legislation in terms of breeding and processing insects at home, as each State has different ones.)
Let's start with considering space and equipment.
Karim and Laura employ their bunker, which is 20 square meters total.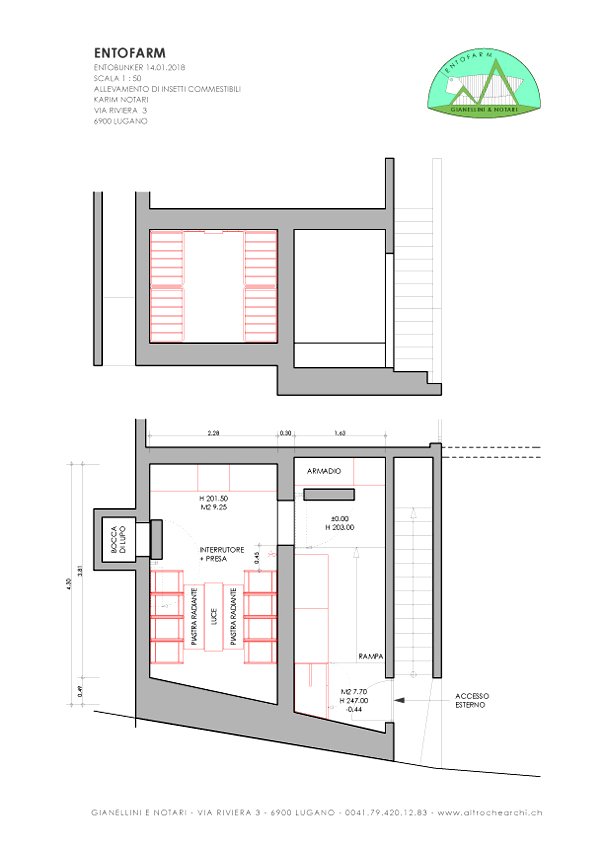 By Helvetic laws, you must separate the spaces. One is for breeding, the other for processing. We will call them the "breeding area" and "laboratory," as Karim calls them.
The laboratory has a Combi-Steamer oven, a freezer, and a fridge.
The breeding area is equipped with several metal shelves (as you can see from the pictures), which host plastic crates (such as those for clothing) in proportion to the number of crickets (divided equally among them). At the moment, their breeding area host around 20,000 crickets (Acheta domesticus).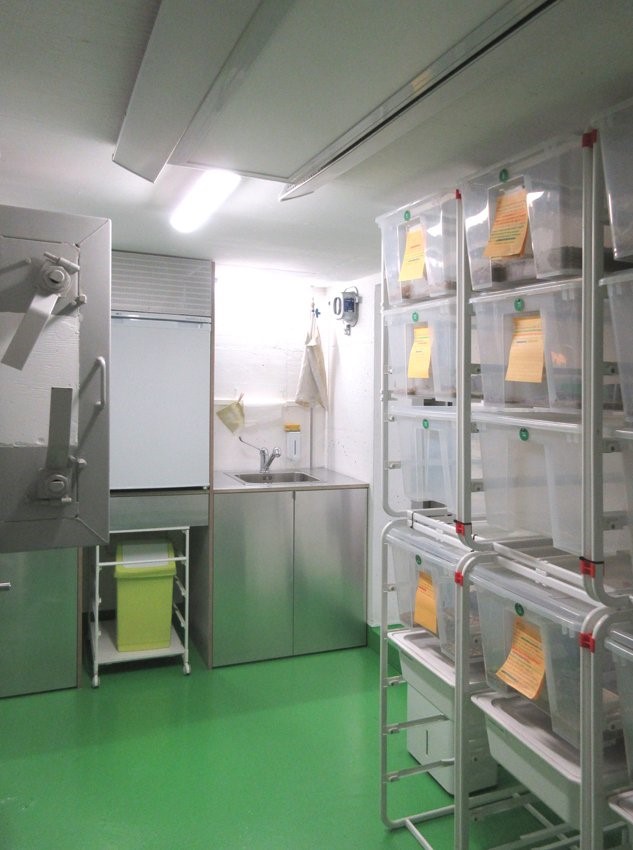 This amount is allowed for private use, but if the numbers rise between 20,000 and 50,000, you must declare it to the government.
Simply, more crickets means more food.
The crickets live inside the plastic crates. Each one can host up to 100 individuals. The crates must have holes in their lids for the crickets to breathe. Inside, the insects live in pressed peat egg crates (those used to make plants cuttings). They eat fresh vegetables which are preserved inside the refrigerator.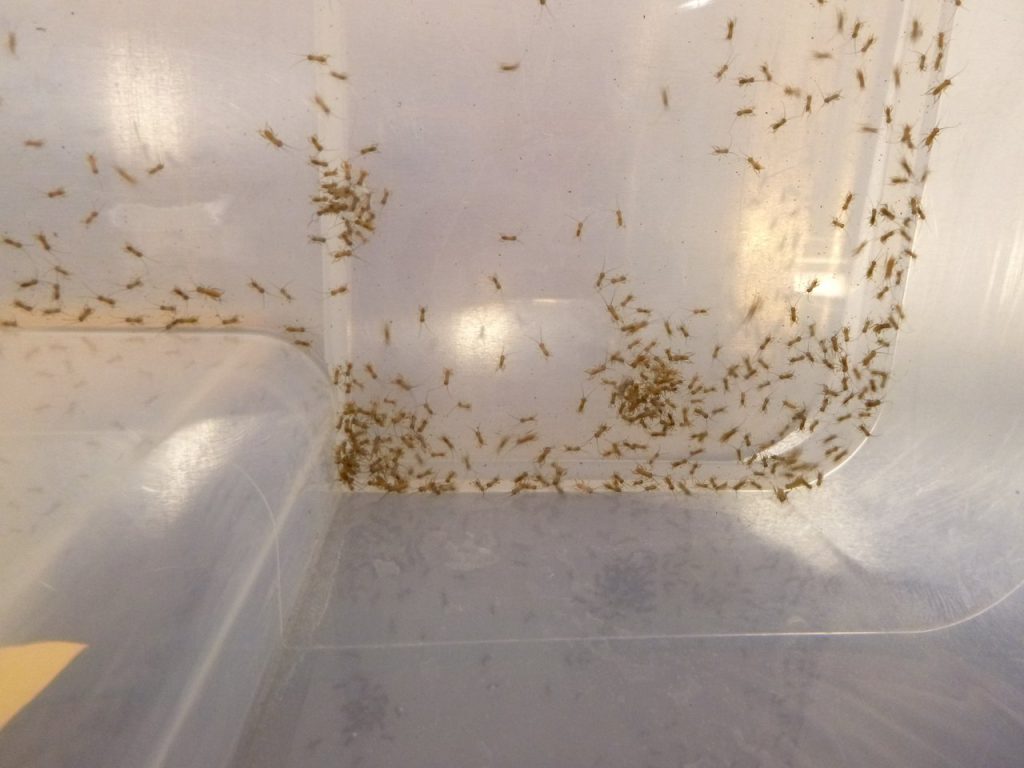 Karim and Laura feed them with seasonal vegetables, especially salads, carrots, zucchini. Everything must be organic, otherwise they will contain herbicides or pesticides which are harmful to the crickets themselves!
The breeding temperature should be at least 25 ° C (77°F). This area contains also a dehumidifier. As mentioned before, it took Karim and Laura about a year to test and find the right conditions.
Inside the breeding area, Karim and Laura also use an infrared ceramic heater, like the one used in bathrooms. They also turn the lights on during the day and off at night to give the cycle of the day and ensure a peaceful and comfortable life for the crickets. But you can also use an automatic timer.
Once the crickets have become adults, Karim and Laura put the insects inside the freezer where they are gradually stunned. They do that at night, in order to make sure they don't suffer. Gradually the temperature drops down to -22° C (-7.6°F). In this manner, they make everything very easy and ethical.
The next step is to dry the crickets inside the oven, process them, and make flour out of them.
If they did it, so can you!
1https://www.oism.org/nwss/s73p911.htm