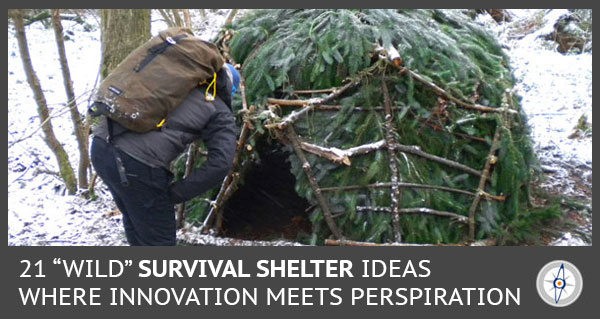 Outdoor enthusiast Kevin Langan took on an ambitious challenge to build 100 small survival shelters on any piece of ground with enough resources for construction. His goal was to spend the night in each one, and then blog about his experiences. He fell short of 100, but did manage to create 21 different "Wild Huts."
These shelters should serve as inspiration for your own emergency shelter builds. We've included an image of each one below. Click on the image for a full breakdown of each build as well as Kevin's experience staying the night in each.
Wild Hut #1 – Overgrown Redundant Land
Wild Hut #2 – Graving Docks
Wild Hut #3 – Festival Park
Wild Hut #4 – Rough Roundhouse
Wild Hut #5 – Kinning Park
Wild Hut #6 – M8 Motorway
Wild Hut #7 – Mugdock Woods
Wild Hut #8 – Wilderness Plantation
Wild Hut #9 – Pacific Quay
Wild Hut #10 – Govan, Glasgow
Wild Hut #11 – Old Partick Central Station
Wild Hut #12 – Rattray Head
Wild Hut #13 – Mugdock Woods
Wild Hut #14 – Carbeth Loch
Wild Hut #15 – Hound Point Battery
Wild Hut #16 – Pacific Quay
Wild Hut #17 – Edmiston Drive
Wild Hut #18 – Kinnoul Hill
Wild Hut #19 – Dawsholm Park
Wild Hut #20 – Avon Water
Wild Hut #21 – Jupiter Artland

Kevin's efforts are equal parts innovation and perspiration. Well done, sir!